Easy return of products within

30

days from the date of purchase without giving reasons
Product's availability
HI TEC Black Devil 240 Cap
HI TEC NUTRITION - Black Devil
HI TEC BLACK DEVIL by a combination of natural ingredients contributing to increase testosterone levels. The unique amino acid D-aspartic acid increases the levels of LH DAA by 33% and testosterone levels by as much as 42% of young men, who are at the top of the production of endogenous testosterone. DAA, as opposed to the prohormone and anabolic steroids, does not cause blocking of the hypothalamic-pituitary-testes, so that helps libido, au athletes "on and after the" maintain natural production of testosterone, the sensitivity of nuclei to the pituitary hormones and maintains the functions and the size of the testicles. DAA at the same time stimulates the secretion of growth hormone, which is building thanks to the defined lean muscle mass. 
To increase the effectiveness of DAA, HI TEC BLACK DEVIL contains a set of steroid saponins tribulus and fenugreek, which provide maximum synthesis and the use of testosterone by the body. Vitamin-mineral complex ZMA to help reduce the synthesis of harmful DHT from testosterone, and improves nighttime production and operation of all known anabolic hormones: testosterone, GH, IGF-1. Excellent post-workout recovery and quicker adaptation to increasing training loads were obtained by the addition of an extract of maca.
COMPOSITION:
Other ingredients: capsule (edible gelatin - capsule component, color - titanium dioxide), magnesium salts of magnesium citric acid fatty acids - anti-caking agent.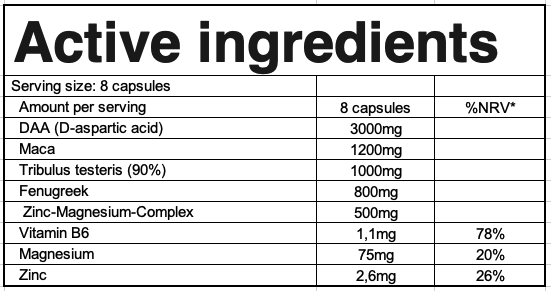 *Nutrient Reference Values