Easy return of products within

30

days from the date of purchase without giving reasons
Michał Karmowski's innovative pre-workout formula.
PRE-WORKOUT'S PLANT EXTRACTS AND AMINOS
TASTY FLAVORS
M13 is designed for professional athletes.
HOW TO USE
Dissolve one serving of the product 15 g (2,5 scoops) in 300 ml of water in a shaker. Drink 30 minutes before working out. Avoid combining with other products containing caffeine!Please note:Do not take before bedtime!
WARNINGS:Do not exceed the recommended daily dose. Do not use the product as a substitute for a varied diet. Children, pregnant or nursing woman must not take the product. Do not use the product in case of circulatory system problems or sensitivity to caffeine. Do not combine with alcohol! Varied and balanced diet and a healthy lifestyle are important. Single intake of beta-alanine in an amount greater than 800 mg can cause tingling and numbness. The product may contain: milk, soy, cereals containing gluten, eggs, peanuts and nuts. Warning! This product may be prone to caking – it is natural process resulting from the hygroscopic properties of active ingredients and it doesn't affect the quality and effectiveness.
STORAGE:Keep this packaging tightly closed in a dry place, at the temperature of 15–25°C. Keep out of the reach of children.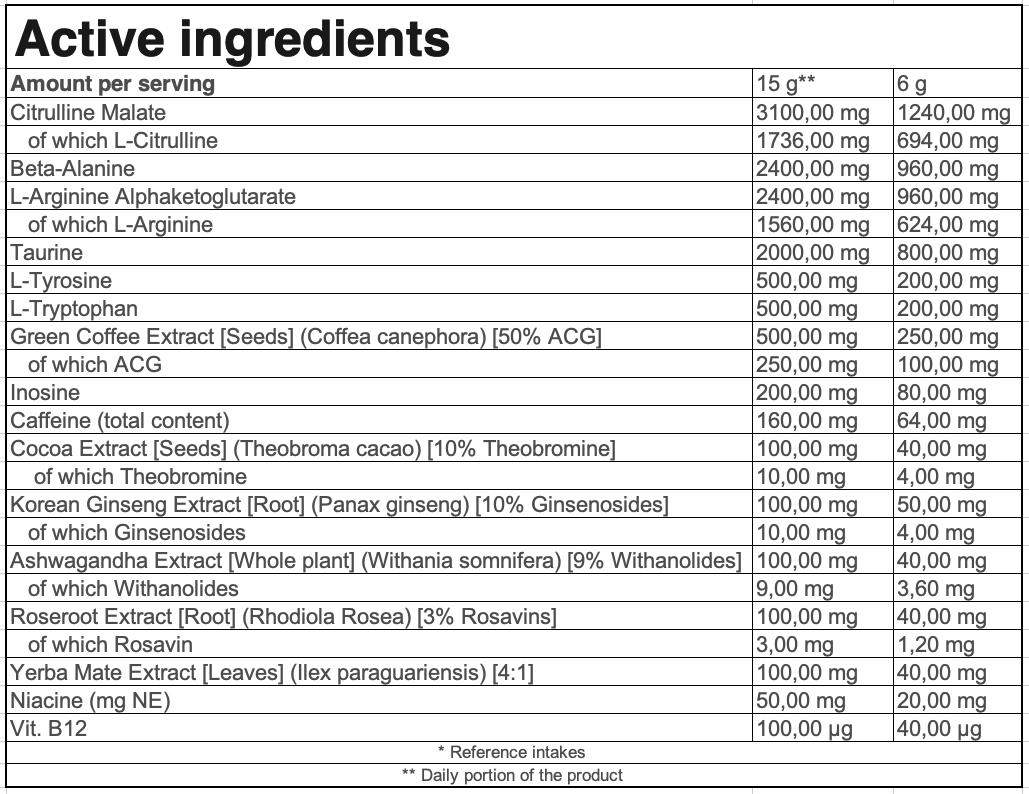 INGREDIENTS: citrulline malate; beta-alanine; L-arginine alpha-ketoglutarate; taurine; maltodextrins; anti-caking agent – silicone dioxide; L-tyrosine; L-tryptophan; green coffee extract [seeds] (Coffea canephora) [50% ACG]; aromas; inosine; anhydrous caffeine; cocoa extract [seeds] (Theobroma cacao) [10% theobromine]; korean ginseng extract [root] (Panax ginseng) [10% Ginsenosides]; ashwagandha extract [whole plant] (Withania somnifera) [9% withanolides]; roseroot extract [root] (Rhodiola Rosea) [3% rosavins]; yerba mate extract [leaves] (Ilex paraguariensis) [4:1]; thickeners – cellulose gum, xanthan gum; sweeteners – sucralose, sodium cyclamate, sodium saccharinate; niacin (nicotinamide); vit. B12 (5'-deoxyadenosylcobalamin).