Easy return of products within

30

days from the date of purchase without giving reasons
Product's availability
Olimp Kolonbiotic Stopper 10 Caps
2 billion Lactobacillus rhamnosus GG bacteria
5 billion Saccharomyces boulardii yeasts
Acute diarrhoea
Travellers diarrhoea
Antibiotic therapy
Food for special medical purposes containing 2 billion lactic-acid bacteria L. rhamnosus GG, and 5 billion yeasts S. boulardii and fructooligosaccharides.
HOW TO USE
Recommended daily dose: children over 3 years of age and adults — 1 capsule once a day, with plenty of liquid, preferably during a meal. The contents of the capsule can be added to the meal at room temperature.
Best before See the left side of the packaging.
Storage:. store in a dry place at room temperature, in tightly closed containers. The product contains living bacterial cultures that are sensitive to heat, so it should be protected from heat sources, sunlight, rapid changes in temperature and moisture. Keep out of reach of children.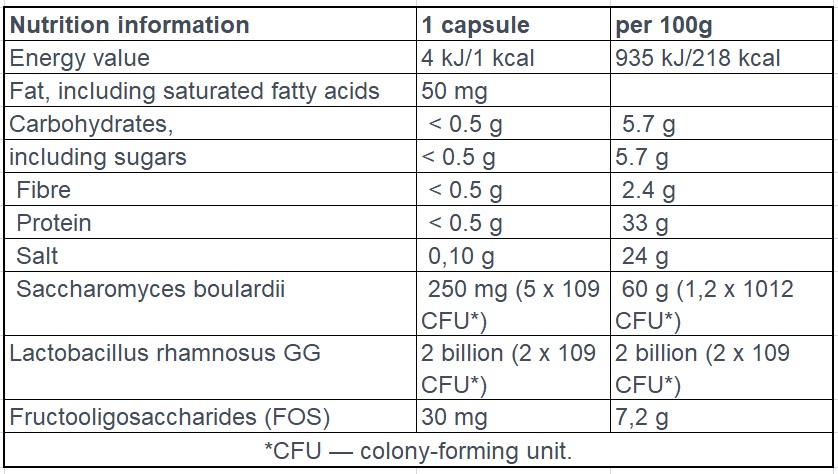 INGREDIENTS
Saccharomyces boulardii, fructooligosaccharides, maltodextrins, microencapsulated live cultures of Lactobacillus rhamnosus GG (ATCC 53103) bacteria, anti-caking agent — fatty acids magnesium salts; shell ingredients (glazing agent — hydroxypropyl methylcellulose; colouring — titanium dioxide).